Have you wondered about Physiotherapy?
BUT
 have some reservations?
Will it be hard to get an appointment?
Will I be expected to sign up to a full course of treatment?
I'm not sporty enough to go to a sports clinic?
Will I have to undress?
Will I just be given another sheet of exercises?
Will it be painful?
We have tried to answer all your questions in our blog this month…

Image credit: www.abovewhispers.com
Stress Free Experience
We want all our patients to feel as stress-free as possible when coming to their appointment's, but we appreciate that, if you've not been to see us before, you might not know what to expect. If there are worries that you would like to check out before your appointment, please ask our very knowledgeable receptionists who will be happy to help and please be assured that:
We see people with varying fitness levels, ages and abilities – we will tailor your treatment to your needs. We see the very sporty, the not so sporty and the not at all sporty.

We will need to thoroughly assess the part needing treatment and may ask you to undress to a degree – this will never be beyond what you are comfortable with.

You are not going to be judged on your skin condition, scars, body type or clothing.

You might think your problem is not severe enough to warrant treatment – we deal with the whole spectrum of pain from aches and niggles to severe, un-remitting and persistent pain.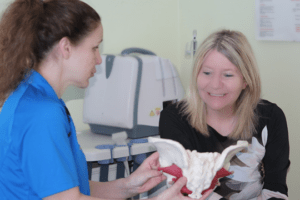 Feel at ease with our professional, friendly team of physiotherapists
Your appointment will be face to face unless you request otherwise – we can offer video calls or phone call appointments too.

Booking an appointment is easy – just phone our reception teams on 01335 344952 or 01283 777070. You will speak to a human or, if we are busy, you can leave a message and our receptionist WILL get back to you. You can also email in queries admin@ashbournephysio.co.uk or admin@hiltonphysio.co.uk  We generally see self-funding patients within a week and often within 24/48 hours. There may be a wait for NHS appointments that is variable depending on demand. We have appointments across our clinics Monday-Saturday with some evening availability (Evening and Saturday morning clinics for private patients only).


We want to understand you and your injury, and we understand that this may take a while to explain –

we are here to listen and to problem solve with you.

Your first appointment will be 45 minutes and follow-up appointments are generally 30 minutes.

You will not be asked to pay for a course of treatment 'up front'. We offer 'pay as you go treatment'. We are here to provide the level of support that you want or need (please note some restrictions exist for NHS funded appointments

).

You will never be pressured into having further treatment. The need for further any sessions will be discussed with you and we will explain what we would hope to achieve with any further sessions. We will give you as many tools as possible to help you to help yourself. Our average number of treatments for private patients is 3 -if you are just looking for an outline of what is wrong and advice on what you should and shouldn't be doing, that is absolutely fine, just come in for a one-off.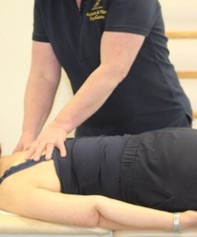 We are here to ease your pain not to increase it! and we will keep any pain during treatment to a minimum. In some circumstances we will need to encourage you to move more but this will always be with your agreement and control.

For those who become anxious in hospitals and clinical settings, our clinics are light, airy and welcoming, do pop in and see us at some point before your appointment if you have any concerns. Why not read some of the comments from our recent patient satisfaction survey for an overview of the welcome and approach you might expect? (Combined-PSS-Report-Physio-Massage-with-Summary-Conclusions-July-2023.pdf (ashbournephysio.co.uk))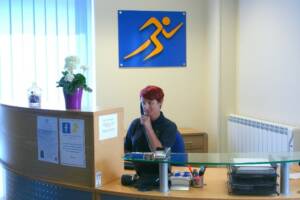 Our professional, friendly Receptionist Team are here to help you.
Our clinic is founded on skilled manual or 'hands on' therapy. All our therapists will include hands- on treatments in your care if it is appropriate to your condition.

Your physio has years of experience of dealing with problems similar to yours – do visit our team page to find out more (Meet the Team) about who they are and their areas of special interest.

You don't have to have a GP referral to see us privately.  Private patients can book in and pay-as-they-go.  For NHS funded treatment we would need a referral from a GP in Derbyshire.

You will not just be given a list of exercises – Exercises will be tailored to your needs and level and we usually don't give out more than a handful of exercises at any one time as we appreciate you do have other things to be doin in life!
#ashbournephysio #ashbournephysiotherapycentre #hiltonphysio #hilton #derbysire #physiotherapy #shockwave #sciatica #tendoninjuries #ligamentinjury #kneepain #backpain #plantarfaciits #pelvichealth #professionalteam #nhs #privatepatients #facetofaceappointments