TEDxAdelaide – Lorimer Moseley – Why Things Hurt.
An explanation of how pain is registered in the brain and transmitted in the body. A humorous discussion with some clinical terminology.
Back Pain – separating fact from fiction 
Prof Peter O'Sullivan discusses how we communicate with patients and what patients hear regarding persistent back pain.
An introduction to approaching persistent pain from a patient perspective.
Understanding pain in 5 minutes
Understanding the complexity of pain
There is a wealth of podcasts on pain topics for free on the curable website – you can scroll through the headings to find one that really resonates with you
A group of podcasts on the brain's role in chronic pain. There are different professionals interviewed and some patient's personal experiences having used the curable health system. Very informative and easy to listen to.
British Pain Society
Derbyshire Chronic Pain Support Group
Pain Concern
Pain Tool Kit
Action on Pain
Curablehealth.com
NHS Choices – Ways To Manage Chronic Pain
Useful NHS Link To NHS Change 4 Life
A lot of information on how to be healthier.   Diet advice, receipt suggestions, differnt exercises for at home and in the community (some great apps), mental health help.
Painful yarns – Lorimer Moseley
This short book will help you to understand your pain by using different (often funny!) anecdotes that explain the complexity of pain and how you can manage it more effectively.
Chronic Pain your key to recovery – Georgie Oldfield
Written by a physiotherapist, this book is written directly for those with long term pain who are looking to understand their pain more and find really practical ways they can help themselves. It explains 'how very real and even debilitating pain, can frequently be caused by our brain in response to repressed emotions as a result of current and even past experiences'.  The book includes loads of real life case studies and practical work sheets and is very readable to a lay-person.
Pain Habit discover the truth about your pain – Drew Coverdale
Written by a physiotherapist, this book 'offers an enlightening outlook into the habitual patterns which lead to our pain and outlines the path to recovery'.  This book is quite a deep read and most appropriate for those who can recognise trauma early in life which may have contributed to pain being a reaction to emotions attached to these traumas. It aims to help you understand why your pain developed and has stayed (conscious and unconscious brain having a conversation and miscommunication) and looks at your beliefs and emotions attached to that pain. From here you can start your journey to recovery ad you might find www.thepainhabit.com helpful too.
Our Women's Health/Continence advice leaflet
Have a look at our pelvic health advice sheet for information on bladder weakness, prolapse and pelvic floor exercise along with some very helpful everyday advice on looking after your pelvic floor. Link to leaflet
There are many more resources from various sources on our pelvic health page (More Info)
Heaps of up-to-date research backed information can be found on the POGP website (More Info)
 Jigsaw E https://jigsaw-e.com/   Supported self-management for joint pain
Aims to improve the life of people living with osteoarthritis (OA). This website provides several informative resources including 'The osteoarthritis guidebook' which is aimed at anyone with joint pain. Helpful in understanding and managing OA. It also explains the roles of different professionals such as GPS and physios who will be able to help you with the self – management of your symptoms.
This is a rehabilitation programme for people with chronic joint pain (in knees, hips or back). It integrates self- management and coping strategies with an exercise regime which is individualised for each person. It will help you to understand your condition, and teach you simple things you can help yourself with. It takes you through a progressive exercise programme so you are able to manage your pain more effectively.
Recommended Physical Activity Levels for adults
The NHS has put together activity suggestions for different age groups with different abilities. There are also free exercise classes. Great to try a class in the comfort of your own home. Such as  yoga, pilates, mat exercises, aerobics, zumba.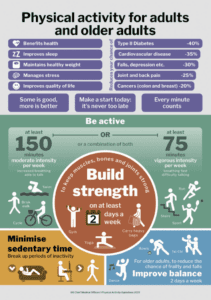 A lot of information on how to be healthier. Diet advice, recipe suggestions, different exercises for at home and in the community (some great apps) , mental health help.
Information and help with lifestyle changes including losing weight, stopping smoking, getting active, mental wellbeing, alcohol awareness, online MOT and, falls prevention. Support can be online and over the telephone.
These exercises are brilliant for helping to improve your co-ordination and balance at any age, and can be easily carried out at home. On line or in leaflet form, these straightforward, quick exercises are affective for everyone but particularly beneficial for the over 65 s. Whether you suffer from achy arthritic joints or a lack of confidence in you mobility – these are for you.
The pictures and explanations are really clear and easy to follow.
Don't make them a chore- make them a habit. Do them while the kettle is boiling or when your cleaning your teeth. Little and often is the best way.
And if you only do one of these its EXERCISE 6 . . .  Standing on one leg. Clinically proven to improve so many things
What are you waiting for. . . .
Headspace for mindfulness 
I really liked this app it takes you through your day with a variety of breathing exercises, meditation exercises, music to sooth or energise and sleep sounds to float you off into a relaxing sleep.
Everyday there are different themed cartoons- I particularly liked the star wars themed breathing exercises with Yoda and interviews with real people in real relationship situations.
I loved the fact you can dip in and out as you need it.
Sadly, it's Not free and cost £49.99 a year but before you commit you can sign up for a 14 day free trial. I will certainly be keeping up with this one.
Very imaginative and appealing to everyone searching for some inner calm and understanding. ZZzzzzzzz.
Calm for relaxation
The CALM APP has a whole array of meditations, breathing exercises, relaxing music and sleep stories that you can tap into whenever you want to help you to reduce stress and anxiety, improve focus and improve sleep quality. Listen to the sound of gentle rain in the zen garden , join a 5 minute mindful walking meditation or allow the relaxing voice of Chike Okonkwo to transport you upon the magical Glacier Express as you drift off to sleep with a sleep story (requires subscription – often has a free trial)
Curable for persistent pain self help
This self-proclaimed No 1 app for all the resources you'll need to understand and manage Chronic pain.
Aimed at people who suffer with longstanding migraine, back pain, fibromyalgia, chronic fatigue, ME and chronic fatigue.
There is a lot of quite detailed scientific information about pain physiology, neuroscience, and up to date speakers and research into how sufferers can manage.
It does require you to create an account and give your email address and create a password and costs £4.92 a month or £58.99 a year! although you can sign up for a 14 day free trial. Each time you log in you have a text chat with a mentor who asks you questions- I found her quite American and I have to say a bit annoying which is a shame because once you get to the meaty stuff the information was very good.
It tackles quite meaty topics around chronic pain with the latest experts being interviewed in pod cast form.
An app not for the faint hearted but for those on a journey of understanding…
Escape pain NHS free app for arthritis self help
This app complements the Escape pain programme and can be used as a support tool if you have already attended the face to face programme. This can be a good aide memoir to enable you to exercise in your home after completing the course. It also helps people access the programme if they can't attend a class. It contains videos and progress charts, and is intended as a support tool only, so should be used with guidance from a physiotherapist or other health care professional.