What is Pilates
Pilates is an exercise system devised by Joseph Pilates who taught thoughtful and functional movement which when practiced regularly and with the Pilates principles of control from the bodies centre (or core) can bring the body back into healthy alignment and teach new postural habits so you can move more freely without strain.
The exercises are devised to strengthen the body from its centre to provide stability from which to create smooth and controlled movement of the limbs thus helping to alleviate pain from movement patterns adopted due to live styles or injury.
Pilates is a low impact safe form of exercise for anybody, how and to what level you progress is determined only by any personal restrictions you may have . The exercises are performed slowly and with care and attention to precise movements patterns which bring about fluid and controlled movement in order to realine the body and mind.
Here at Ashbourne Physiotherapy & Sports Injury Centre we offer small classes which allows individual attention and greater understanding and progression of the Pilates Method..
Many athletes now practice Pilates to keep their bodies aligned and as rehabilitation after injury. Pilates compliments any exercise program you already undertake.
We currently run a variety of classes and times to cater for those who are new to Pilates or those who are more advanced and experienced. If you are unsure what class would be right for you please speak one of our instructors who will be happy to discuss which would be best for you.
Carmela D'Afflitto
Carmella runs a more traditional Pilates class on:
Mondays at 2.00 & 3.00pm, Tuesday at 1.45pm & 2.45pm.
Becky Britchford
Becky runs "Pilates with a Twist" on:
Tuesdays at 3.00pm & 4.14pm.
Wednesdays at 4.15pm, 5.30pm & 6.45pm
Thursdays at 5.15pm & 6.30pm
Carmela D'Afflitto
Carmella runs a more traditional Pilates class on:
Mondays at 2.00 & 3.00pm, Tuesday at 1.45pm & 2.45pm.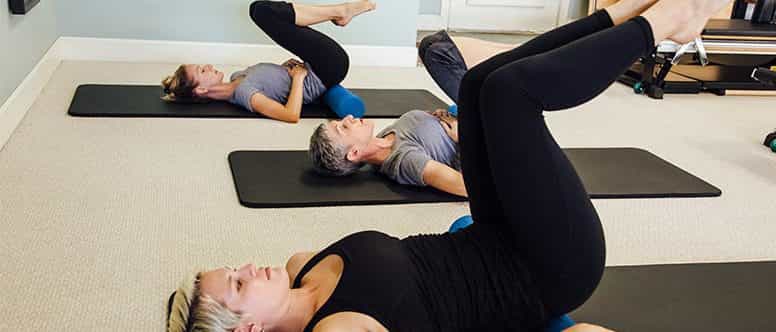 About The Course
Courses tend to follow school terms and are in blocks of 5 to 7 weeks. The small classesPilates image 2of up to 12 people allow the experienced instructors to teach the Pilates techniques at a pace and intensity to suit individuals in a friendly and non-competitive environment.
Beginners who have recently finished a course of physiotherapy and are ready for the next stage of rehabilitation will be referred into the classes with a written explanation of the individuals requirements and current exercise level.
Thus you can be confident that the exercises are at the correct level for you and your body and after the course you should be able to progress to other classes and will have recovered some confidence in your exercise ability.